What is visual merchandising? The Ultimate 101 Guide
Well, in a nutshell, Visual Merchandising is a retail industry practice of optimizing and enhancing the presentation of products or services so that the best features and benefits are made clear to customers.
The aim of this practice is make a powerful visual case to your customer to assist their buying decision. It's not simply about making products look good, it's about what you make your customer think and feel when you give them the right information and context. Visual Merchandising inevitably drives increases in revenue because it does a great job of connecting your brand and products with your customer's needs and emotions.
Why is Visual Merchandising important?
A great way to understand the impact of Visual Merchandising is to consider the two examples below of a ham and spinach omelette. These two dishes have been prepared with the same ingredients. Objectively, they're not likely to provide a huge difference in taste. However, the first omelette isn't only disorganised, it looks downright disgusting! What on earth am I looking at?
By contrast, the second omelette provides the viewer with insights into its fresh ingredients. I know immediately that it's a ham omelette, my favourite! I can also see the fresh spinach lying in medley with the Hollandaise sauce. I'm feeling healthy about my imminent choice between the two plates already.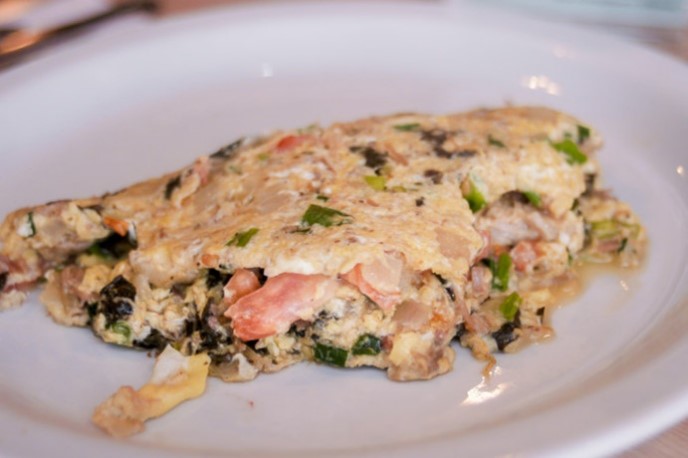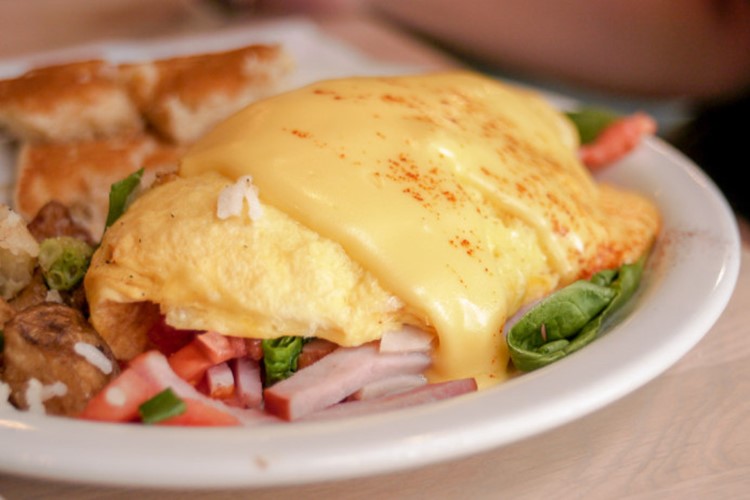 The power of Visual Merchandising lies in the fact that we are visual by nature. Did you know that the human brain processes images or visual displays 60 000 times faster than text? Along with that, 90% of the information transmitted to our brains every day is visual. We would be crazy not to leverage that for our brands.
Visual Merchandising provides brands with a really powerful way to cut through all the clutter. The challenge that may brands face in brick-and-mortar stores and online shops is that they're competing feverishly against other products all bombarding the same customer for attention. This makes it easy to be overlooked as a brand. The only way to avoid this death of irrelevance is to cut through the noise.
So what does a visual merchandiser do?
The visual merchandiser starts their impactful journey by zooming out to consider the structure and arrangement of the retail space as a whole. This applies to brick-and-mortar stores as well as online shops.
They design customer experiences into this retail space by ensuring that the value of every product and brand aesthetic is harmonised into a great customer journey. In this way, visual merchandisers act as guides to the customer journey, connecting customers across multiple channels to their needs and interests as quickly as possible and reducing the burden placed on them to process text.
What are the different types of Visual Merchandising?
Visual merchandising as a practice has its roots in the physical brick-and-mortar retail environment. However, with the rise of omni-channel retail the practice has evolved and extended to online channels too. Let's take a look at the different kinds of visual merchandising and consider how they can be used to amplify product, customer experience and brand story.
Window displays
Since the earliest bakers, butchers and blacksmiths window displays have played an epic role for the history of visual merchandising. Window displays are all about grabbing the attention of potential customers and enticing them through your door. They're traffic drivers for physical stores. These displays are used to convey all manner of value messaging to the public whether it's about brands, products or promotions.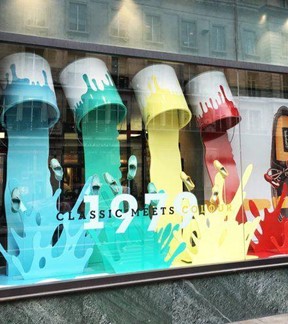 Mannequins
These installations are synonymous with any person's imagined interior of a clothing retailer. Did you know that the earliest known mannequins date back to the 15th century? They've been doing an outstanding job of sparking the imagination of passive shoppers for over 5 centuries now. And let's not forget that at least half of us struggle to dress ourselves well let alone imagine an ensemble that won't set the neighbourhood dogs on us.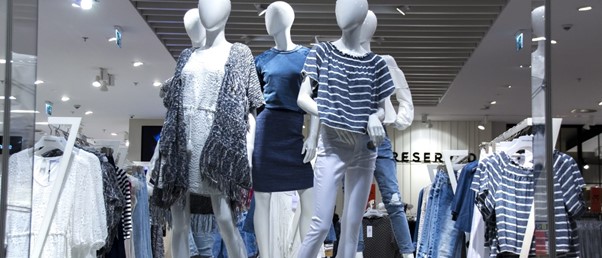 Clothing stores have put them to great use but there's no reason why mannequins shouldn't be utilised beyond that bubble. At the end of the day, you want your customer to imagine using, wearing, living your product or the lifestyle you're selling them. Mannequins recently took a step into the 21st century with the help of AI and machine learning. Never mind the static forms anymore, imagine having a personal shopping AI bot helping you pick out the best matches for your tone and body shape. It wouldn't hurt to get compliments in the fitting room either!
Interactive displays
This space has seen some really exciting developments over the last decade and perhaps presents the best blending thus far between the physical and online store. So many online-first stores have realised that customers still crave interaction with products and inspiring physical retail spaces.
These interactions manifest in all kinds of different ways but at their core, it's about reciprocal learning: you want to understand your customer's needs better and your customer wants to understand your products.
Some retailers put interactive displays to work within their stores to help customers orientate themselves and design their own customer journey's through the store. Other retailers use augmented reality and 360 degree video to allow the online shopper to explore your physical retail spaces and engage more tangibly with your products than they would through a general online store.
Signage
With the evolution of shopper marketing technology, the lines have become very blurred between traditional signage and interactive displays. Traditionally, signage has been everything from simple visual sharing of digestible information that catches the eye to posters at the point of sale warning you of missing out on the great deal in the store.
How to be an effective visual merchandiser
Every visual merchandiser should start their journey of impact by mapping out a merchandising strategy. Di you know that about 40% of customers change their minds because of something they saw, learned or interactively did while in store? That's a staggering statistic which, with an overarching merchandising strategy, can be made to work in your favour! Let's go over the critical considerations you'll need to make to put this in place.
Empathise deeply with your customer
In a world where Amazon is teaching more and more people to buy their products with impersonal clicks, customers face a reducing need to physically enter retail stores. Moreover, millions of people are actively avoiding store with the arrival of Covid19 on Earth. Where people are still going to stores, it's your job to give them a sense of security, orientate them with their needs and connect them to the answers they're looking for as quickly as possible.
We must start by trying to understand what's most important to our customer. Are they looking for the lowest price and the best deal? Are they aspiring towards quality and status? Do they yearn to associate themselves with luxury and individualism? Do they want to be known for being early adopters on the cutting edge of the latest and coolest?
Your strategy must seek to align with who your customer is, not so that your customer sees your brand but so that your customer sees themselves in your brand. Everything you do should feed into a harmoniously designed customer journey from the moment they set foot in your store.
Your displays must tell a story
And your story should always start with a hook so that you grab enough attention to take them on a journey. More than simply appealing to their sense of sight, the most powerful hooks will be those that appeal to their emotions, dreams, aspirations. It doesn't have to be a Cirque du Soleil multi-dimensional experience, in fact, if you've done the work to understand your customer you'll be best placed to appeal authentically to them without needing acrobats.
Think about Mood, Lighting, Colour and Sound
Well before considering what you want your customer to think, we're exploring how you want your customer to feel. We use design and visual merchandising to set a mood for their experience. Consider for a moment the mood difference set within a Pharmacy versus a Grocery Store. Both sell categories of fast moving consumer goods but they are certainly worlds apart in terms of mood set and expected customer experience because they appeal to different needs within the same customer. It's also important that we don't give our customers a sense of cognitive dissonance when they arrive in our store. When you walk into a Surf Shop, you expect a rush of vacation vibes into your blood through the visual ques around you. If it looks like a slick gym apparel store then we're failing to strike a balance between creative interpretation and customer expectation. Mood links your customer to your brand but also helps them to orientate themselves either in a familiar world or a world they wish to live in.
Light and colour are two pillars of our ability to set mood but are powerful tools used in and of themselves to draw attention. Lighting pulls your customer's eyes to points of interest, colour contrasting is similarly used as a magnet to pique customer interest. And of course, there's sound. Whether you're playing ambiance noise of a waterfall and jungle birds chirping, or gentle tones of marimba over the sound-system, Sound and Music is your mood ally. Did you know that with several global sporting events prohibiting crowds during the Covid pandemic, broadcasters have taken to playing the ambient noise of previously recorded crowds to enhance the home theatre experience. We're simple creatures: we feel first and think second.
Cross-merchandising is your friend
When we think about our customer, we shouldn't limit our consideration to them and how they relate to a single product. As customers it's a rare occasion that we're out on the hunt for simply one item. And even if we've forgotten the milk, a single trip for milk more often than not turns into a basket with more than just the forgotten milk in it.
For this reason, cross-merchandising is a powerful sales driver and helpful practice for customers. Consider which products in your store are complimentary and make spaces where you display them together. We see this done most prolifically in grocery stores to increase the customer's basket size. But bundling techniques are used in all retailers. Think about the socks displayed near the running shoes displayed near the smartwatches displayed near the smartwatch bands. It's all a bundle of related value that we can add to our customer's life.
Cross-merchandising can, however, be taken to a new level by using retail intelligence. Far more than being able to identify which products have high complimentary affinity in your store, retail intelligence can help you understand how to price them as a bundle to drive your sales up! For this we highly recommend checking out ShopperLogiQ for retail intelligence and a whole lot more.
Retail auditing is critical
Unfortunately, there's no room in visual merchandising for passive people. It's a field that requires constant evaluation and adjustment because customers will develop blindness over time if they're taught to no longer expect anything different from you.
We need to audit our stores to get a good grip on where merchandising is being effective and where it's falling flat. We work in remarkable field in that while our work is foundationally creative, we need to inform our creativity with data-driven insights which get pulled from audits.
It's a good idea in Visual Merchandising to keep things fresh visually and to shake up our displays for customers. But the only way that we can iterate effectively is by ensuring that we have a way to measure customer engagement and feedback. Audit, pivot, audit, pivot!
Visual Merchandising is an exciting discipline that draws on a spectrum of skills including marketing, creative design, operational processes and sales. In general, we tend to be creatives because it's much harder to teach an analytical mind how to be creative than the other way around. CMYK is an ally to your creative world by doing all the analytical heavy-lifting for you and ensuring that you focus on creating the most compelling customer experience.